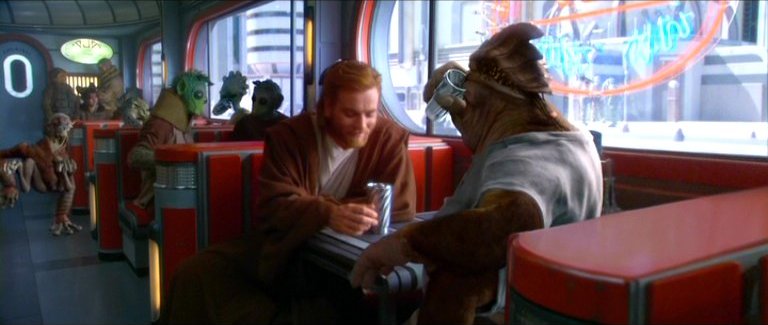 This interlude in AOTC packs a lot into a short seemingly simple scene. Dex's Diner is another one of Lucas's throwbacks to mid-20th century Americana. Even though it is on Coruscant, it looks familiar enough inside and out so that the audience instantly recognizes what it is and you'd almost be willing to try whatever the GFFA's versions are of chocolate milkshakes, club sandwiches, French fries, chef's salads, cherry pies, and a damn good cup of coffee (perhaps that's "jawa juice"). A jukebox plays a bouncy tune. Dex might have several arms but his gruff but friendly demeanor is reminiscent of t.v. greasy spoon proprietors like Mel on the '70s sitcom "Alice" or Al on "Happy Days." Plus he's got issues with keeping his pants up.
The scene though is more than Lucas marinating in his small town youth. For one thing, it moves the detective story arc forward since Dex knows where the poison dart comes from and about the cloning operation on Kamino. It also shows how Obi-Wan has changed somewhat since TPM. In that film, Obi-Wan didn't seem terribly engaged with people outside of the Jedi Order. You can practically see him rolling his eyes every time Qui-Gon gets chummy with a local and there is that "why do I sense you've picked up another pathetic lifeform" comment. Now here he is warmly embracing Dex like an old friend and taking advantage of Dex's underworld knowledge when he's exhausted sources at the Temple. Some of Qui-Gon had rubbed off on Obi-Wan and he probably knows at this point that it helped make him a better Jedi.
What Dex has to say is important too. He jokes about the Jedi (not) knowing the difference between knowledge and wisdom.  It indicates that even the guy who runs a regular diner knows the Jedi are starting to trust knowledge over wisdom. "If it's not in the archives it doesn't exist," though of course it can. There's a theme throughout AOTC that the Jedi were "too sure of themselves" and even "arrogant." Which, along with their vision being clouded by the Dark Side leads to their downfall.
Most of Obi-Wan's detective arc scenes are in dark or shadowy locations. Even Kamino, where it's very bright in the interiors, is a dark and stormy planet. This scene is in bright "daylight," which indicates honesty and openness.
Ewan is just way too adorable in this scene and he plays off of the guy playing Dex beautifully.
Bonus trivia: Dex's full name is Dexter Jettster, the last name of course taken from Lucas's son Jett. He's not to be confused with Dex Dexter, a character on '80s nighttime soap opera "Dynasty."
Extra bonus trivia: If you watch the closeups carefully, you'll notice Obi-Wan's got a pierced ear ;).
Tags: AOTC, Great Scenes