Top 10 PT (movie) creatures according to me:
There are so many creatures created for the just the prequel saga alone, not counting the Clone Wars. Terryl Whitlach designed a lot of them for TPM and there were plenty more created for AOTC and ROTS. Picking just 10 is tough!
10. Gualaar
A what? These were the unicorn-like creatures used in Padmé's funeral scene in ROTS. This and similar equine type creatures were created as royal horses for TPM but these were the most visible and weren't used until Episode III. Beautiful and regal.
9. Shaak
I like big butts and I cannot lie…
Seriously though, these were created for TPM and supposedly seen in one shot (I can't think of what point in the movie) but were prominently featured in AOTC during Anakin and Padmé's picnic romp.
8. Sando aqua monster
There's always a bigger fish.
7. Eopie
Tatooine's answer to camels.  And like camels they poop all over the place and cut the cheese a lot.
6. Aiwah
Flying whales!
5. Nuna
They're little and barely noticeable but one of those creatures that add detail and life to the GFFA.
4. Acklay
One big scary grasshopper.
3. Reek
This bull-like horned lizard makes for great transportation once you've calmed it down with the Force.
2. Nexu
Soft nexu warm nexu little ball of fur…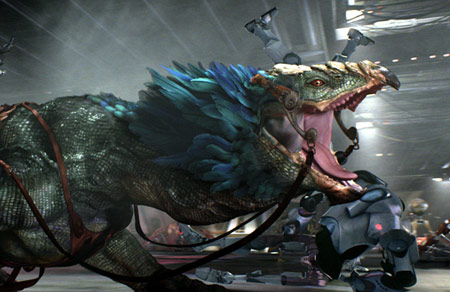 1. Boga
Fast, fiercely loyal (Obi-Wan's boga saved his life after all), cool-looking, able to climb anywhere, and I love its call.